What Do We Know about the COVID Shot?
COVID "vaccines" are the talk of politicians and the media. In their drive to promote the vaccine, what aren't they telling us? As we will see below, the COVID "vaccines" have a track record of harm and dubious effectiveness. We are reluctant even to call it a "vaccine" in the traditional sense. We will refer to it as a COVID shot. 
Did you know that COVID shots may be THE MOST DANGEROUS "vaccine" offered to the public?
According to the US government's own Vaccine Adverse Events Reporting System, the following vaccine injuries have been reported: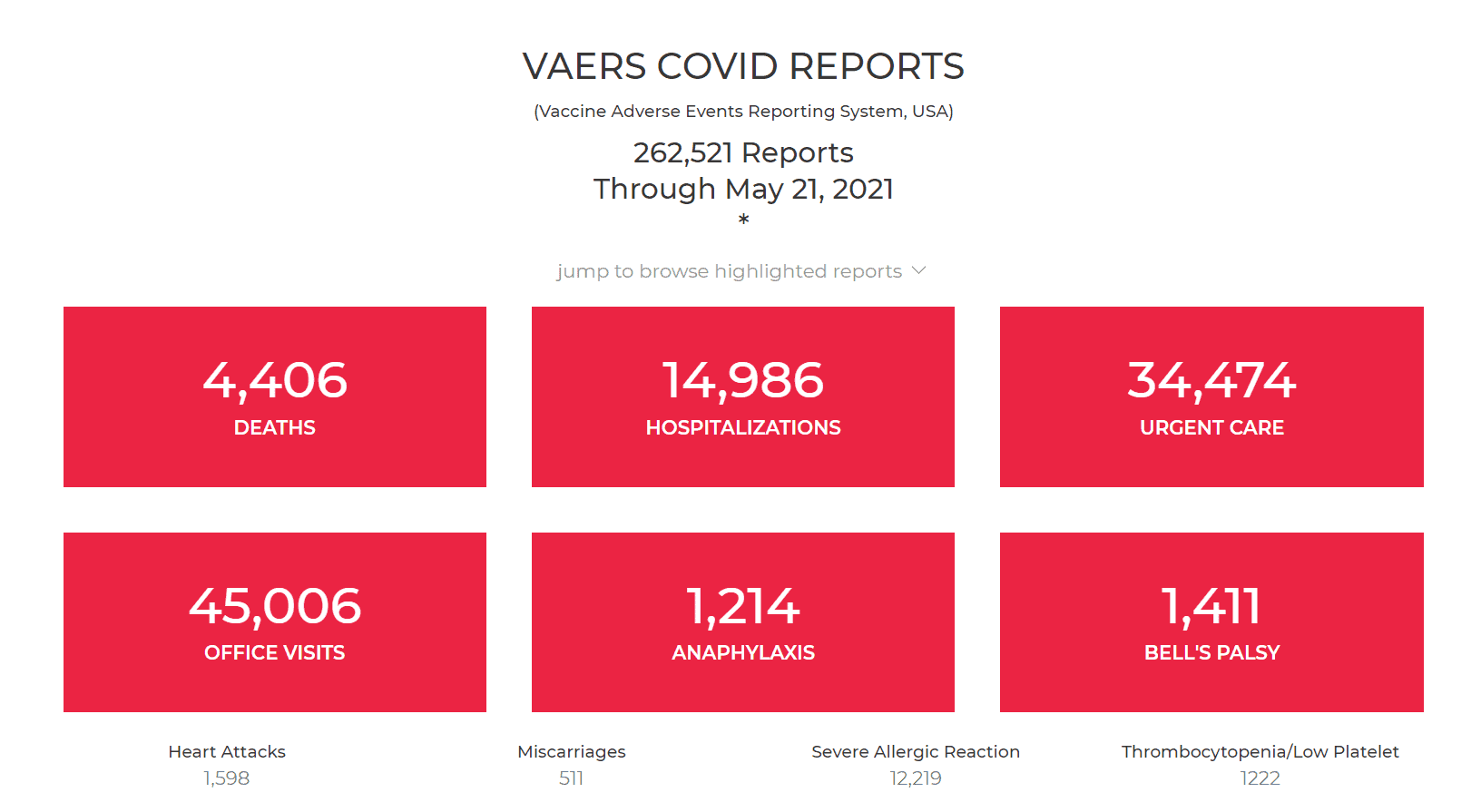 Graphic by: https://www.openvaers.com/covid-data
What other product offered to the public has injured or killed this many people without a recall?
Tucker Carlson of FOX News reminds us that more deaths have been reported from the COVID "vaccine in four months than from all other vaccines combined in more than a decade and a half."
https://childrenshealthdefense.org/defender/tucker-carlson-how-many-americans-died-covid-vaccines/
Did you know that the COVID shot is ineffective at preventing COVID-19 transmission?
Contrary to reports from our public health and the media, the COVID shot has not been shown to be effective at preventing transmission of COVID-19. This fact makes the argument that the COVID shot is needed to promote herd immunity a moot point. 
According to Dr. Larry Palevsky, the COVID shot has failed to meet the stringent requirements of good science:
"So if we want to look at this injection and check it for vaccine criteria, we have to go through the five questions that I asked before. 'Does the COVID-19 injection provide antibody immunity to the SARS-CoV-2 virus, making it an effective vaccine?' The answer is no. Even the manufacturers say that we may not develop immunity to the SARS-CoV-2 virus with this injection. 
'Does the COVID-19 injection provide us protection from getting a SARS-CoV-2 viral infection?' The answer is no. The manufacturers and the experts have already said that this may reduce the symptoms if you get the infection, but it will not protect you from getting the SARS-CoV-2 viral infection. 
Three, 'Has the COVID-19 injection been shown to reduce the number of deaths from a SARS-CoV-2 infection?' The answer is no. Not only that, but the manufacturers did not test whether this COVID-19 injection would reduce the number of deaths from a SARS-CoV-2 infection. 
Four, 'Has the COVID-19 injection been shown to reduce the circulation of the SARS-CoV-2 virus in the population?' The answer is no.
Fifth, 'Has the COVID-19 injection been shown to reduce the transmission or spread of the SARS-CoV-2 virus from one person to the next?' The answer is no. The manufacturers and the scientific experts have said that, "We did not test this injection to see if it would stop the transmission of the SARS-CoV-2 virus from one person to the next." 
http://covidvaccineontrial.com
The FDA's documents acknowledge the above: "Data are limited to assess the effect of the vaccine against transmission of SARS-CoV-2 from individuals who are infected despite vaccination."
https://www.fda.gov/media/144434/download#page=47
The World Health Organization stated: "We do not know whether the vaccine will prevent infection and protect against onward transmission. Immunity persists for several months, but the full duration is not yet known. These important questions are being studied."
https://www.who.int/news-room/feature-stories/detail/the-moderna-covid-19-mrna-1273-vaccine-what-you-need-to-know
Dr. Pamela Popper has a great article on how the COVID shot is ineffective:
https://wellnessforumhealth.com/wp-content/uploads/2021/04/Forbidden-Newsletter-Article-041221.pdf
Many people are still getting COVID-19 and testing positive for COVID after receiving the COVID shot, including American political commentator Bill Maher.
https://deadline.com/2021/05/real-time-with-bill-maher-cancelled-this-week-tests-positive-covid-19-1234755973/amp/
Did you know that the COVID shot is ineffective at preventing COVID-19 transmission?
A new paper from the journal Science, Public Health Policy & the Law makes the case for causality for the COVID "vaccine" and reported adverse events. 
If there was no causation, we would expect a kind of uniformity over time after receiving the COVID shot. But the data showed that rates for adverse events, emergency room visits, and deaths were all much higher in the days following the shot.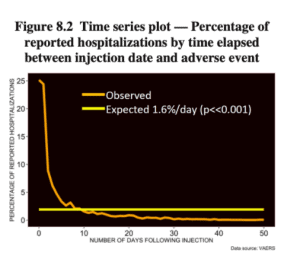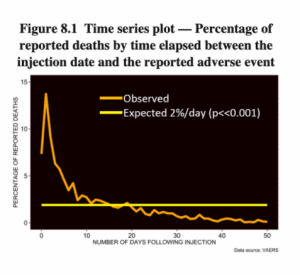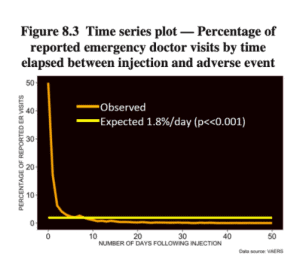 The paper concludes: "Analysis suggests that the vaccines are likely the cause of reported deaths, spontaneous abortions and anaphylactic reactions in addition to cardiovascular, neurological and immunological AEs."
https://www.publichealthpolicyjournal.com/clinical-and-translational-research
Dr. James Lyons-Weiler explains:
"This study will be hotly debated because it drives to the core presumption that the VAERS data resource cannot be used to assess causality. Temporal association is a critical piece of evidence in causality; the test for clustering of the events so near the vaccination event provides a critical test of the hypothesis of causality."
https://jameslyonsweiler.com/2021/05/17/study-finds-patterns-in-vaers-data-that-provide-evidence-of-causality/
Did you know that a number of celebrities regret having taken the shot or have mysteriously passed away following a COVID shot?
Award-winning musical artist Eric Clapton regretted taking the COVID vaccine stating:
"In February this year, before I learned about the nature of the vaccines (and being 76 with emphysema), I was in the avant-garde. I took the first jab of AZ and straight away had severe reactions, which lasted ten days. I recovered eventually and was told it would be twelve weeks before the second one…
About six weeks later I was offered and took the second AZ shot, but with a little more knowledge of the dangers. Needless to say the reactions were disastrous, my hands and feet were either frozen, numb or burning, and pretty much useless for two weeks, I feared I would never play again, (I suffer with peripheral neuropathy and should never have gone near the needle.) But the propaganda said the vaccine was safe for everyone...."
https://www.americasfrontlinedoctors.org/frontline-news/eric-clapton-after-covid-vaccination-i-should-never-have-gone-near-the-needle
Rapper DMX experienced a massive heart attack after taking the COVID vaccine, and later passed away.
https://washingtonnewspost.com/uncategorized/dmx-received-covid-vaccine-days-before-heart-attack-family-says-no-drugs-exclusive/
Hank Aaron passed away three weeks after receipt of the COVID vaccine. 
https://www.cbs42.com/sports/hank-aarons-death-unrelated-to-recent-covid-19-vaccination-doctors-say/
Boxer Marvin Hagler died after the receipt of the COVID vaccine.
https://www.sportskeeda.com/mma/news-marvin-hagler-cause-death-thomas-hearns-claims-boxing-legend-died-covid-vaccine
Former Detroit news anchor Karen Hudson-Samuels died one day after receiving the COVID vaccine.
https://www.foxnews.com/us/detroit-tv-news-anchor-dies-covid-19-vaccine
30-year old actress Ashley Taylor Gerren passed away after the receipt of the COVID vaccine.  
https://sandrarose.com/2021/04/baldwin-hills-star-ashley-taylor-gerren-dies-after-getting-covid-vaccine/
The media repeats over and over again "there is no evidence that these deaths were caused by the COVID vaccine" but how can they assume that the COVID vaccine wasn't related when even the experts do not know all the short-term and long-term implications of COVID "vaccines?"
Did you know that over 4,000 deaths have been reported in normal (everyday) people who have died after taking the COVID shot?
Haley Link Brinkmeyer, a 28-year old physical therapist, died two days after taking the COVID vaccine. https://www.dailymail.co.uk/news/article-9357521/Physical-therapist-28-dies-two-days-taking-COVID-19-vaccine.html
55-year old Augusta Turiaco fell into a coma and died two days after receiving the COVID vaccine. https://news.sky.com/story/covid-19-family-of-italian-woman-who-died-after-oxford-astrazeneca-vaccine-launches-legal-action-12278855
A healthy 35-year old woman Anne VanGeest came down with a terrible headache eight days after receiving the COVID vaccine, and died 3 days later of a brain hemorrhage. https://childrenshealthdefense.org/defender/35-year-old-woman-dies-brain-hemorrhage-johnson-johnson-vaccine/
A 35-year old pregnant woman in Brazil passed away after receipt of the COVID vaccine. https://childrenshealthdefense.org/defender/brazil-suspends-astrazeneca-vaccine-after-pregnant-woman-dies/
A 70-year old New York man passed away just 25 minutes after receiving his COVID vaccine. https://kvoa.com/coronavirus-coverage/2021/02/08/new-york-man-dies-25-minutes-after-receiving-covid-19-vaccine/
A 41-year old healthcare worker experienced a 'sudden death' two days after the COVID vaccine. https://www.dailymail.co.uk/news/article-9111311/Portuguese-health-worker-41-dies-two-days-getting-Pfizer-covid-vaccine.html
A healthy Miami doctor died two weeks after getting the vaccine due to internal bleeding. https://www.chicagotribune.com/coronavirus/fl-ne-miami-doctor-vaccine-death-20210107-afzysvqqjbgwnetcy5v6ec62py-story.html
A California resident died several hours after taking the COVID vaccine. https://www.foxnews.com/us/california-resident-dies-several-hours-after-receiving-covid-19-vaccine
There are many, many reports from VAERS of people experiencing abnormal symptoms and subsequently passing away after receipt of VAERS. https://stuartbramhall.wordpress.com/2021/02/26/facebook-posts-back-up-vaers-reports-linking-covid-vaccines-to-injuries-including-death/
All of these deaths should teach us a lesson - rushing a COVID vaccine is, according to CNN, 'colossally stupid.' https://www.cnn.com/2020/09/01/health/eua-coronavirus-vaccine-history/index.html
Did you know that many everyday people have received vaccine injury as a result of taking a COVID shot?
There are almost 200,000 reported vaccine injuries from people just like you! These people just wanted to be protected from COVID or wanted to get back to living a normal life, but the COVID shot has permanently altered their lives.
Most people and their doctors are unaware of how to file a vaccine injury report in VAERS and are unaware of the possibility of vaccine injury. Because of this fact, the number of vaccine injuries related to a COVID shot is under-diagnosed. It is likely that the number of actual vaccine injuries experienced by the public is at least 10x higher than what has been reported in VAERS. 
17-year old teen hospitalized with blood clots after receiving the COVID shot. https://childrenshealthdefense.org/defender/teen-hospitalized-brain-blood-clots-after-pfizer-vaccine/
A school in Kalamazoo, Michigan had to close after multiple teachers called out sick after experiencing negative effects of the COVID vaccine. https://www.msn.com/en-us/news/us/vaccine-side-effects-impacting-kalamazoo-county-schools-experts-say-its-worth-it/ar-BB1e3ylH
Healthcare worker Chavonya Littlejohn suffered a severe allergic reaction to the COVID shot and had to be hooked up to a ventilator. https://fox4kc.com/tracking-coronavirus/important-information-to-know-after-metro-healthcare-worker-suffers-severe-allergic-reaction-from-covid-19-vaccine/
Nurse researcher Kristen Choi, a participant in the Phase III vaccine trial, after receipt of the COVID vaccine experienced an extremely high fever of 104.9 °F. https://www.webmd.com/vaccines/covid-19-vaccine/news/20201207/nurse-shares-covid-vaccine-side-effects-from-trial
Many people are reporting "COVID vaccine headaches" that can last up to four days.  These could be a sign of Cerebral Venous Sinus Thrombosis (CVST).
https://www.express.co.uk/life-style/health/1412306/AstraZeneca-vaccine-headache-cause-CVST-symptoms-evg
Social media has exploded with accounts of vaccine injury. https://covidvaccinereactions.com/kimalberts/
https://covidvaccinereactions.com/echounafraid/
https://vaccinereport.org/informed-consent-matters-reports-frontline-workers-testimonies-vaers-reports/
Did you know that many women are experiencing abnormal periods, heavy bleeding, and miscarriages after receiving a COVID shot?
Many women are reporting "heavier and more painful periods since getting the COVID-19 vaccine." https://www.dailymail.co.uk/femail/article-9446907/Some-women-report-heavier-painful-PERIODS-getting-COVID-19-vaccine.html
The practice of giving the COVID vaccine to pregnant women is disturbing. There are 110 reports of miscarriange in VAERS after post-receipt of the COVID vaccine. https://articles.mercola.com/sites/articles/archive/2021/04/21/pregnant-women-covid-vaccine.aspx
Millions Against Medical Mandates has done their own inquiry into the effect on women as a result of the COVID vaccine, and has found that many women are reporting these effects. https://millionsagainstmandates.org/womens-cycles-covid-vaccine/
Researchers are starting to notice the changes in women's cycles after receiving the COVID vaccine, and they are calling for more research to be done. We don't fully understand the repercussions yet of the COVID vaccine. https://childrenshealthdefense.org/defender/covid-vaccines-disrupt-womens-menstrual-cycles/
Given COVID-19's effect on the human reproductive system, the effects of the COVID vaccine on the human reproductive system could be similar.  https://www.ncbi.nlm.nih.gov/pmc/articles/PMC7941816/
Your Did You Know that receiving a COVID shot if you have previously recovered from COVID puts you at risk of damage from autoimmune disease?
It is unsafe to vaccinate people that have been previously infected with the COVID vaccine.
If you have had COVID before, some of the virus materials could still be present in your body's organs. A COVID shot could cause your immune system to go haywire and damage your own cells.
Pro-vaccine surgeon and researcher Dr. Hooman Noorchashm warns:
"I state the above, because I know, as a matter of scientific principle, that once a person is naturally infected by a virus (any virus), antigens from that virus persist in the body for very long after viral replication has stopped and clinical signs of infection have resolved. So, when a vaccine reactivates an immune response in such recently infected persons, the tissues harboring the persisting viral antigen are targeted, inflamed and damaged by the immune response.
In the case of SARS-CoV-2, we know that the virus naturally infects the heart, the inner lining of blood vessels, the lungs and the brain. So, these are likely to be some of the critical organs that will contain persistent viral antigens in the recently infected — AND, following reactivation of the immune system by a vaccine, these tissues can be expected to be targeted and damaged.
If young and otherwise healthy persons, recently infected, could tolerate such adverse side-effects of the vaccine, it is highly likely that many of the elderly and frail, or those with serious cardiovascular risk factors, would not."
Despite this warning, public health authorities and politicians recommend that everyone receive the vaccine without any caveat on prior screening for prior COVID infection. https://noorchashm.medium.com/already-or-had-a-covid-19-infection-or-think-you-did-b282f9471605
American Institute for Economic Research has a well-researched article that makes a strong case that giving COVID vaccines given to those who have had COVID is harmful. https://www.aier.org/article/if-you-had-covid-do-you-need-the-vaccine/
Did You Know that experts are warning the public about the dangers of COVID shots and are demanding a stop to the widespread "vaccinations"?
57 doctors and researchers from the medical profession are calling for a stop to the COVID vaccination campaigns:
"We propose halting mass-vaccination and opening an urgent pluralistic, critical, and scientifically-based dialogue on SARS-CoV-2 vaccination among scientists, medical doctors, international health agencies, regulatory authorities, governments, and vaccine developers
We are convinced that humanity deserves a deeper understanding of the risks than what is currently touted as the official position. An open scientific dialogue is urgent and indispensable to avoid erosion of public confidence in science and public health and to ensure that the WHO and national health authorities protect the interests of humanity during the current pandemic. Returning public health policy to evidence-based medicine, relying on a careful evaluation of the relevant scientific research, is urgent. It is imperative to follow the science."
These scientists are clear on the risk of harms to the populace as a result of COVID shots:
"COVID-19 encompasses a wide clinical spectrum, ranging from very mild to severe pulmonary pathology and fatal multi-organ disease with inflammatory, cardiovascular, and blood coagulation dysregulation. In this sense, cases of vaccine-related ADE or immunopathology would be clinically-indistinguishable from severe COVID-19. Furthermore, even in the absence of SARS-CoV-2 virus, Spike glycoprotein alone causes endothelial damage and hypertension in vitro and in vivo in Syrian hamsters by down-regulating angiotensin-converting enzyme 2 (ACE2) and impairing mitochondrial function." https://en-volve.com/2021/05/08/57-top-scientists-and-doctors-release-shocking-study-on-covid-vaccines-and-demand-immediate-stop-to-all-vaccinations/
Long-time pediatrician Dr. Angelina Farella testified against widespread COVID vaccination as bringing unnecessary risks to the public.  https://www.youtube.com/watch?v=mIPb0AtEvAE
Did You Know that there is plenty of science to suggest that COVID shots could harm us in a myriad of ways?
COVID vaccines trick the body into producing the SaRs-CoV-2 spike protein, but what if the spike protein presents harms in of itself? It means COVID shots themselves are fatally flawed!
A good layperson explanation comes from this doctor. It's a 13 minute watch, and nicely explains how the spike protein can cause harm.  https://www.youtube.com/watch?v=p-8THiPKsHQ
The SaRs-CoV-2 spike protein from the COVID vaccine can cause abnormal cell signaling, and lead to unknown long-term consequences. This research paper warns:
"this [SARS-CoV-2 spike] protein may also affect the cells of systemic and coronary vasculatures, eliciting other cardiovascular diseases such as coronary artery disease, systemic hypertension, and stroke. In addition to cardiovascular cells, other cells that express ACE2 have the potential to be affected by the SARS-CoV-2 spike protein, which may cause adverse pathological events. 
Thus, it is important to consider the possibility that the SARS-CoV-2 spike protein produced by the new COVID-19 vaccines triggers cell signaling events that promote PAH, other cardiovascular complications, and/or complications in other tissues/organs in certain individuals. We will need to carefully monitor the long-term consequences of COVID-19 vaccines that introduce the spike protein into the human body." https://www.mdpi.com/2076-393X/9/1/36/htm
This study found the potential for the spike protein alone to cause lung damage.
https://medicalxpress.com/news/2021-04-sars-cov-spike-protein-lung.html
The COVID vaccine can raise the risk of prion disease in humans. Prions are abnormally shaped proteins that can cause other proteins to become misshapen. Prion disease can lead to neurodegeneration in humans.
https://principia-scientific.com/covid-19-rna-based-vaccines-and-the-risk-of-prion-disease/
https://en.wikipedia.org/wiki/Prion
There have been cases of heart inflammation (myocarditis) observed in certain recipients of the COVID vaccine. There have also been reports of Guillain–Barré Syndrome. In response, EU regulators are calling for pharmaceuticals to provide more information. https://childrenshealthdefense.org/defender/vaccine-safety-review-eu-regulators-pfizer-moderna-astrazeneca-more-data/
Even in those that have not yet gotten COVID-19, there is the risk of autoimmune disease as a result of similarity between the SaRs-CoV-2 spike protein and the human body's tissues. This phenomenon is known as molecular mimicry. A research study found the potential for antibodies developed due to the COVID shot's ability to react with human tissue. https://www.frontiersin.org/articles/10.3389/fimmu.2020.617089/full
The FDA recommended a pause of the Johnson and Johnson vaccine after data suggested this COVID vaccine could lead to fatal blood clots (thrombosis).  https://www.foxnews.com/health/fda-recommends-pause-johnson-johnson-covid-19-vaccine-blood-clot-cases
However, an Oxford study found that the same effect could also be present in the Pfizer and Moderna vaccines as well. 
https://www.marketwatch.com/story/blood-clots-as-prevalent-with-pfizer-and-moderna-vaccine-as-with-astrazenecas-report-2021-04-15
Public health authorities claim that such occurrences are "very rare." But how do they know? Are they investigating the above celeb deaths and VAERS-reported deaths? It doesn't seem to be the case. 
https://articles.mercola.com/sites/articles/archive/2021/05/23/stephanie-seneff-covid-vaccine.aspx?
The likely scenario is that the amount of actual harm from COVID shots is much, much higher than public health authorities are telling us. 
Did You Know that COVID shots can lead to shedding of the SaRs-CoV-2 spike protein?
There are reports of unvaccinated women experiencing abnormal menstrual cycles just from being around recently COVID vaccinated women. 
There is data that suggests the spike protein can be shed in those with COVID-19. So the same could be possible when the bodies of COVID vaccine recipients start producing the SaRs-CoV-2 spike protein.  https://www.news-medical.net/news/20210201/Urinary-shedding-of-spike-protein-in-COVID-19-patients.aspx
There are reports of finding SaRs-CoV-2 spike protein in public water systems.  https://www.palmspringsca.gov/home/showpublisheddocument/78651
Did You Know that COVID shots could make humanity more vulnerable to subsequent mutations in the SaRs-CoV-2 virus?
If the SaRs-CoV-2 mutates, then people who have taken the vaccine will have antibodies that are primed for the old version of SaRs-CoV-2. These mismatched antibodies would not only be ineffective but could interfere with the body's ability to produce an effective immune response against the new variant. 
A term you should know is antibody-dependent enhancement (ADE). In this case, antibodies generated from the immune system response fail to stop the infection from spreading, and can even better allow the infection to spread. 
Geert Vanden Bossche, DMV, PhD, and vaccine expert, formerly employed at GAVI and The Bill & Melinda Gates Foundation warns about this effect. 
As the selected mutations endow the virus with increased infectious capacity, it now becomes much easier for the virus to cause severe disease in infected subjects. The more people develop symptomatic disease, the better the virus can secure its propagation and perpetuation (people who get severe disease will shed more virus and for a longer period of time than asymptomatically infected subjects do).
Consequently, the number of subjects who get infected while experiencing a momentary decrease in their innate immunity will increase. As a result, a steadily increasing number of subjects will become more susceptible to getting severe disease instead of showing only mild symptoms (i.e., limited to the upper respiratory tract) or no symptoms at all.
https://fos-sa.org/2021/03/12/open-letter-to-the-who-immediately-halt-all-covid-19-mass-vaccinations-geert-vanden-bossche-dmv-phd/
Did You Know that COVID shots used under FDA Emergency Use Authorization is dishonest given that another effective, low-cost prophylaxis is available in the drug Ivermectin?
The COVID vaccines are available under Emergency Use Authorization. This means: 
"Under an EUA, FDA may allow the use of unapproved medical products, or unapproved uses of approved medical products in an emergency to diagnose, treat, or prevent serious or life-threatening diseases or conditions when certain statutory criteria have been met, including that there are no adequate, approved, and available alternatives."
https://www.fda.gov/vaccines-blood-biologics/vaccines/emergency-use-authorization-vaccines-explained
But there is an alternative! There is no denying the scientific evidence - Ivermectin is effective as prophylaxis against COVID-19. 
https://covid19criticalcare.com/wp-content/uploads/2020/11/FLCCC-Ivermectin-in-the-prophylaxis-and-treatment-of-COVID-19.pdf
Dr. Peter McCullough testified to the Texas Senate regarding the denial of COVID treatments by public health authorities and how such actions have led to greater numbers of deaths.
The denial of Ivermectin's efficacy to push the COVID shots is a public health failure and signifies our public health system needs to be reformed.
https://covid19criticalcare.com/videos-and-press/the-whos-denial-of-ivermectin/
For a greater discussion of how the COVID shot was misrepresented as the "only solution to the COVID pandemic," this video by scientist Dr. Lucija Tomljenovic is a good one.
https://tv.gab.com/channel/lucijat77/view/covid-vaccines-part-i-are-covid-609e3129d2f3e89d77870166
Did You Know that the public health authorities' and the media's handling of COVID "vaccine" messaging, without acknowledging public concerns and with the use of censorship, are creating distrust?
Tucker Carlson stated the problem clearly on his recent show:
"From the very first day, the way the authorities handled the COVID vaccine did not inspire confidence. If the vaccine was so great, why were all these people lying about it? Honest question. And they were lying. Clearly, they were lying. You know that for certain because from the moment that COVID vaccine arrived, the most powerful people in America work to make certain that no one could criticize it."
https://www.newsweek.com/tucker-carlson-warns-us-authorities-lying-about-safety-covid-19-vaccine-1568103
The majority of Americans now mistrust the CDC, the NIH, and the FDA. 
https://www.wbur.org/npr/996331692/poll-finds-public-health-has-a-trust-problem?
Perhaps it's time to break apart these institutions and reform them, so they actually serve the public good?
https://jameslyonsweiler.com/2021/01/05/plan-a-has-failed-public-health-now-has-a-plan-b/