Resources to stop COVID Deaths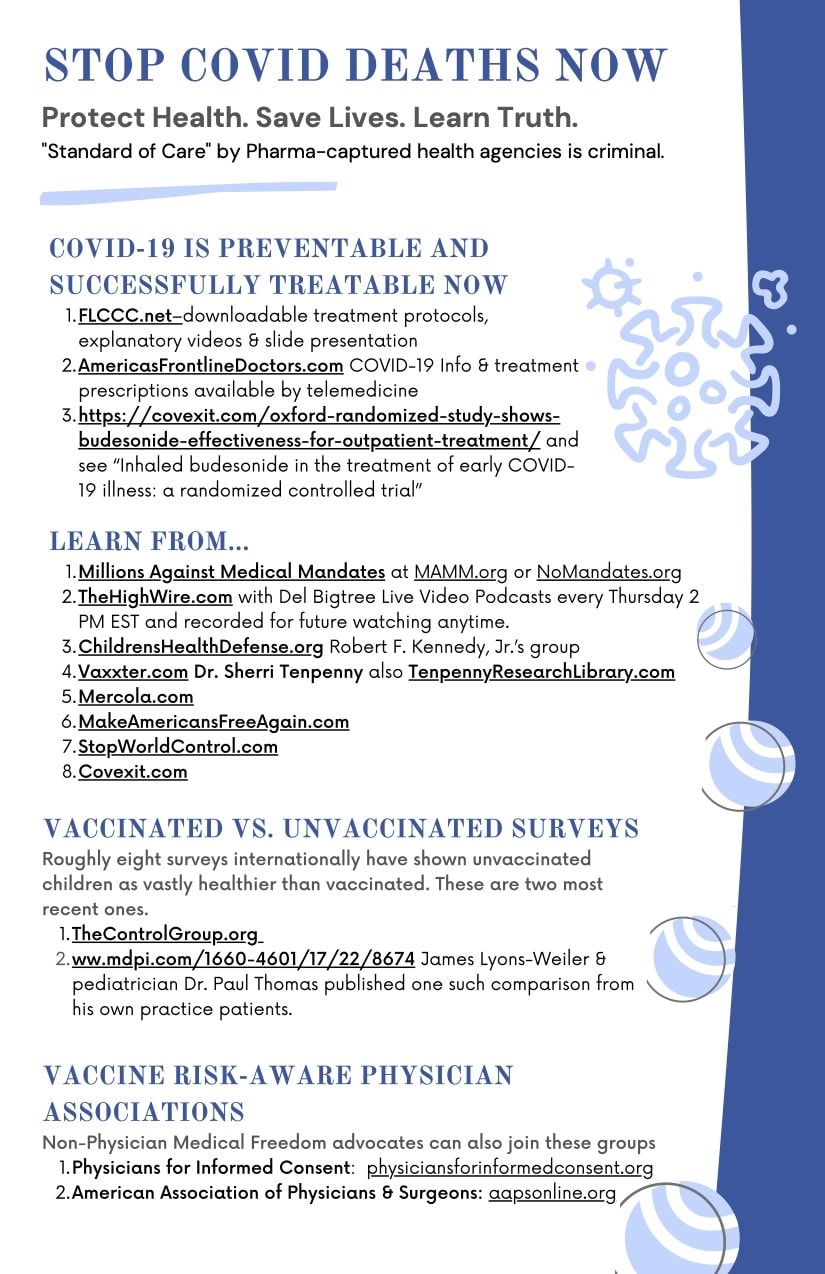 It's vital that we all assist in educating our loved ones, friends, and communities about prevention and treatment for COVID-19 and the risks of the vaccine. This flyer contains links to reputable sources that will equip us to do just that.
Download a printable version of the flyer here. Please print out the flyer and post it publicly.
Thank you for being part of the Millions Against Medical Mandates.
STOP COVID DEATHS NOW!
Protect Health. Save Lives. Learn Truth.
"Standard of Care" by Pharma-captured health agencies is criminal.
COVID-19 is preventable and successfully treatable now
Frontline COVID-19 Critical Care Alliance – downloadable treatment protocols, explanatory videos & slide presentation
Americas Frontline Doctors- COVID-19 Info & treatment prescriptions available by telemedicine
COVEXIT.com COVID-19 News & Policy Analysis -  and see "Inhaled budesonide in the treatment of early COVID-19 illness: a randomised controlled trial"
Learn From…
Highwire with Del Bigtree Live Video Podcasts every Thursday 2 PM EST and recorded for future watching anytime.
Children's Health Defense Robert F. Kennedy, Jr.'s group
VAXXTER.com Dr. Sherri Tenpenny, also Tenpenny Research Library
Vaccinated vs. Unvaccinated Surveys
Roughly eight surveys internationally have shown unvaccinated children as vastly healthier than vaccinated. These are two most recent ones.
James Lyons-Weiler & pediatrician Dr. Paul Thomas published one such comparison from his own practice patients - Relative Incidence of Office Visits and Cumulative Rates of Billed Diagnosis Along the Axis of Vaccination
Vaccine Risk-Aware Physician Associations
Non-Physician Medical Freedom advocates can also join these groups